Your Corona Chronicle — Thursday, Sept. 10, 2020
Main Content
Keeping common sense highly contagious
We have 43 total known, confirmed positive cases in the last two weeks.

Campus Sweet Campus
Despite the rumors, Wake Forest is not shutting down campus. Our numbers of positive test results have gone up in the past two weeks. It's not a reason to panic, but it's absolutely a reason to double down on safe behavior that protects yourself and others. It's easy to let our guard down; let's help each other stay focused and stay on campus. We got this. To check out new dashboard features and get up-to-date information, visit the COVID-19 dashboard.
Orange you glad we're still in yellow?
As we host one opponent in orange this weekend, let's steer clear of another. Staying in the yellow and out of the orange keeps college at college. So, while our Deacs take care of the guys in orange at Truist Field, let's be safe and take care of the orange threat everywhere else: Remember gathering sizes on and off campus for Wake Forest are still 10 people indoors and 25 people outdoors — and outdoors is always more safe than indoors. Take care and enjoy the weekend!
Worried you have it?
Take a deep breath, and then take the first step of visiting the Health of Community FAQ section. You will find exactly what you need to do next, including when to call SHS directly or even come in. Speaking up and taking action quickly can keep us here.
Done eating? Mask up.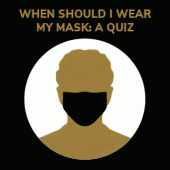 One of the reasons why our numbers are increasing is that when masks come off to eat, many forget to put them back on. We get it, it's a pain, and easy to forget. But these are the moments the spread hits the fan. So please remember to mask up the minute your meal is over; it can make a big difference. Think you're an expert on when to mask up? Take this quiz and see.
You've got plans this weekend
Join the virtual pep rally on Friday night, and watch Wake Forest play Tiger King on Saturday. Football not your thing? Find out what's going on via Corq or Wake the Forest.
And remember… There's been a toilet paper shortage… When we knock off the number 1 team in the country, keep your roll in the house and keep us here for the next game.
For answers to lots of common questions, or to ask your question, visit Our Way Forward.