Move-In Update – Services via Storage Scholars and Options for Non-Returning Students
Main Content
Good Evening –
We hope you and yours are well and are navigating the ongoing pandemic as well as you can. Here on campus, we continue to make preparations for the fall semester.
We wanted to be sure to provide an update to all Spring 2020 and Fall 2020 students as we realize many had things stored with us, and others will just be joining us.
We are happy to announce that we have made arrangements with Storage Scholars to provide additional services for students who may be unable to return to campus. Storage Scholars was founded by Wake Forest students and has grown quickly to now provide services on 13 campuses! Our students are excited to share their passion for entrepreneurship through the student manager and team member experience.
If interested in these offerings, please take a moment to review the information below provided by Storage Scholars. To sign-up for any of these services please visit storagescholars.com and click SIGN UP NOW. If you have questions for Storage Scholars, they can be reached at info@storagescholars.com or 336-815-0100.
For students who are not returning to campus for the Fall 2020 semester, you must have a plan for your items by the end of August. Please submit THIS FORM by August 21 to indicate your choice. Options include:
Authorize a proxy (e.g. friend, family member, local storage facility) to pick up and store your items for you.

Students will need to provide detailed descriptions for items located in common areas in order to have them released to a proxy.

Utilize one of the Storage Scholars options outlined below for storage and/or shipping.
Donate all remaining items.
If you have any questions for the Office of Residence Life and Housing, we can be reached at housing@wfu.edu or 336-758-5185.
Stay safe and well!
Zach Blackmon, Ph.D., MBA
Associate Director of Operations
Office of Residence Life and Housing
---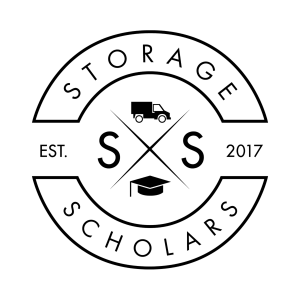 During the Fall 2020 Move-In process, Storage Scholars will provide the following packing, shipping, and storage options to Wake Forest students.
By choosing to utilize Storage Scholar's services, you will not only be supporting a mission for students to reach financial freedom from student loans, but you are getting a far more personalized experience with video conferencing while we are in the room, diverse shipping options and your belongings ready and waiting for you in your new residence upon return to campus.
Sam Chason, '20
Founder/CEO
Storage Scholars
First, a couple of important notes from Storage Scholars:
Anytime there is a reference to shipping or storing a box, that translates to a standard box which is 22" x 18" x 18". They're proudly made in the USA from 100% recycled material. They're considered the most protective box in the industry and are designed to keep your items fully protected wherever the box goes.
"Long-Distance Shipping" refers to distances over 1000 miles from Wake Forest University. Long-distance shipments incur an additional $30/box charge.
International shipments can be done however they tend to be very pricey due to the pandemic conditions and can range from hundreds to sometimes over $1000 for a standard Storage Scholars box depending on the destination. If you wish to have a quote for shipping a box, please send an email to info@storagescholars.com and provide us with your international address and we'll get back to you ASAP with an estimate.
Fall 2020 Move-In Packages
Welcome to WFU Package for our Incoming Students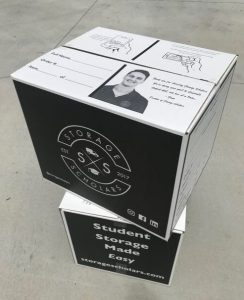 Students can ship their belongings to Storage Scholars and we'll make sure it's all READY AND WAITING WHEN YOU ARRIVE!! Due to COVID-19, there will not be move-in assistance like previous years. Make your experience that much better by walking into your room to see all of your dorm essentials sitting on your bed!
5 items or less – $99
6+ Items – +$10/additional item
Example – Storage Scholars receives 8 packages and delivers them to incoming student residence. The charge for this would be $139.
Fill out your dropoff information below to let us know where to bring your belongings that you ship to us.
Returning to school this Fall but your stuff is stored with WFU?
For students who currently have items in Wake Forest University Storage, we are offering an additional service offering to continue to serve our campus. For a flat rate of $199, we will retrieve your belongings from WFU's storage facility and deliver it to your new residence.
If you lived in an on-campus residence that had shared common spaces, Storage Scholars will NOT be able to deliver the items to you immediately as it could be mixed in with the property of others. After all previous roommates have retrieved their belongings, Storage Scholars will be able to retrieve and deliver any requested missing items that were left in common areas between August 24th and August 31st.
Storage Scholars will take a photo of the belongings prior to pick up as well as at dropoff and will be released from all liability except for damage to property that may occur during transit. Students are responsible for contacting Wake Forest regarding concerns about possible damage to belongings that is identified in photos taken prior to pick-up.
Living on-campus?
You're in luck! Thanks to our continued partnership with Wake Forest University, we are able to have all of your items READY AND WAITING FOR YOU UPON RETURN TO CAMPUS!!! With all that's going on and the ever-changing travel landscapes, rest easy knowing your bedding will be waiting for you, no matter what time you arrive.
Living off-campus?
Storage Scholars has you covered! For those living off-campus, we will retrieve your items and deliver them to your off-campus location whenever you return! Appointment windows will be 9-12, 12-3, and 3-6.
Not returning to WFU this Fall and need something to do with your belongings?
STORAGE:
Students with items currently in Storage with Storage Scholars: Leave your items in Storage until you're ready to return!
We appreciate your loyalty and want to ensure your belongings are well taken care of! Storage Scholars will hold onto all current items in storage until you're able to return at a 50% discount from our standard pricing rates. See all rates here at https://www.storagescholars.com/pricing. We are also offering month over month pricing for those that have already stored a full season in case plans change and you wish to retrieve your belongings sooner! New billing cycle begins September 1st.
Students with items currently stored with Wake Forest University:
Pack, Ship Essentials, and Store the Rest – $499
Storage Scholars will pack all belongings and ship up to 1 box with essential contents and store the rest, up to 10 additional boxes or items (i.e. storage drawers) until the beginning of the Spring semester (Mid-January)! This is the perfect option for all non-graduating students who cannot return to WFU and want their items safely stored until their return to campus. This option will include video conferencing with a student, packing and moving all belongings, and includes all of the necessary packing materials. Items being stored will be ready and waiting for you in your new residence on-campus upon return or will be dropped off via appointment for those transitioning to off-campus living. This is considered a "New Order" and will require you to fill out "Pickup information". DO NOT PUT "WFU STORAGE" AS YOUR LOCATION! Let us know your "Pickup information" by putting in your residence hall and room number from Spring 2020!
Although items were previously packed by CORE movers, Storage Scholars will still go through and repack into our standard-sized boxes for fair pricing and a more protected box for shipping. Customers will still have the option to donate/throw away all items they don't feel needs to be shipped or stored.
Additional boxes can be shipped at a rate of $50/box ($80/box for long-distance)*
DUE TO THE LARGE RETURN OF STUDENTS, NEW ORDERS TO SHIP ESSENTIALS HOME AND STORE THE REST MAY BE DONE AS LATE AS THE FINAL WEEK OF AUGUST (25th – 31st).
SHIPPING
Whether your items are stored with Storage Scholars or are still in Wake Forest University storage, fear not… we'll get them home to you! Our shipping option for those who are not returning to campus this Fall is as follows:
Pack and Ship EVERYTHING – $599
Storage Scholars will pack and ship room ALL your belongings. This is the perfect option for those who want everything back at their permanent residence and cannot return to WFU. This option will include video conferencing with room occupants, packing, and shipping room contents for up to 10 boxes. The Storage Scholars team will provide all packing and shipping materials. Anything not able to fit in a box can be stored and will be priced according to standard storage rates: https://www.storagescholars.com/pricing. Simply click "View Details" on your existing order and you will see a blue bar at the top which will ask you if you want to ship all of your items home to your permanent residence!
Long-distance rate – $749. Additional boxes can be shipped at a rate of $50/box ($80/box for long-distance).
DUE TO THE LARGE RETURN OF STUDENTS, NEW ORDERS TO SHIP EVERYTHING HOME MAY BE DONE AS LATE AS THE FINAL WEEK OF AUGUST (25th – 31st).